After growing up in Redding, CA, and going to Chico State, Broker/Owner Gene Resler embarked on a career in music that continues today. Moving to Vacaville in 1980, he pursued business ownership of a local bar and turned it into a popular night club and sports bar called the Monte Vista Pub. He began his career in Real Estate with Century 21 in 1989. Moving to Isleton in 1999, he has continued in real estate and became a broker in 2006 with Century 21. I have been working the Delta for 17 years and have been in Real Estate for 28 years.
Music is a central part of his 'off hours', not only continuing with the 1960's band, Afterglow (www.afterglow1968.com), featured in a PBS special and a second CD release, he also performs locally with the two of his band mates from Afterglow. This band is a wonderful success in the Delta playing a mix of the 50's, 60's, 70's and beyond, as well as some of their original songs. He also performs as a solo singer/guitarist in the area, and every month for the last 20 years, at a retirement community in Vacaville. Gene Resler offers a fresh look at the Delta living experience. In his 11 years residing in Isleton and as Mayor from 2006-2010, Gene has developed a wide variety of contacts, friends and colleagues locally, as well as in Sacramento, Vacaville and the surrounding communities. He understands their need for affordable housing and vacation properties. Gene is a respected member of the Rio Vista Rotary Club, serving as President for 2012/2013, and volunteers his time to supports his community through a variety of services and activities. Elected to the 2012 Rio Vista Chamber of Commerce Board, and serving as Chamber President for the 2013 and 2014 years, his other memberships include the Discover the Delta Foundation, the Northern Solano County Association of Realtors, California Association of Realtors, and he is a Paul Harris Rotary member.
Serving Rio Vista and the Delta Communities, Resler Realty is committed to quality service to help make your buying and selling a pleasant experience. Gene is a licensed California Real Estate Broker since 2007 and has over 24 years of experience as a Realtor helping hundreds of buyers and sellers. We have a knowledgeable staff to help you with residential, waterfront, investment and income properties, as well as commercial and vacant land. Call today and give us the opportunity to serve your needs.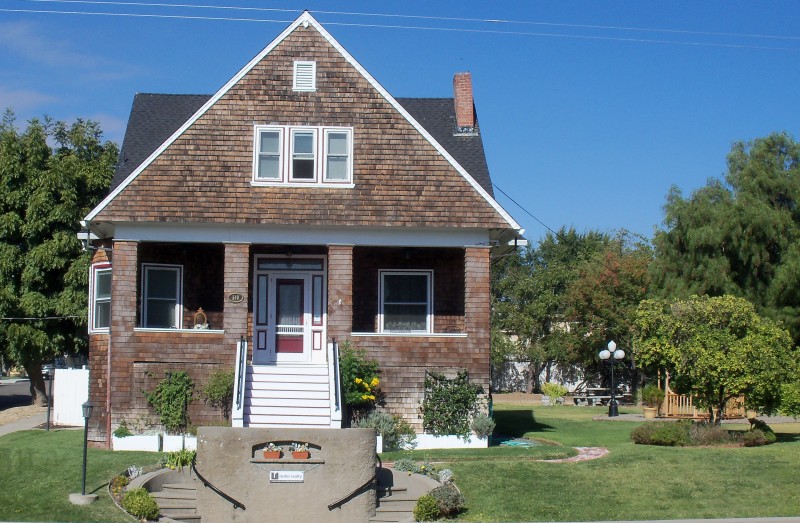 Our Office (540 South 2nd St., Rio Vista)
The internet plays a big factor in buying and selling homes in today's market. You can find property online, but it takes the experience of a Real Estate Broker to protect your investment and make sure you are represented by someone on your side. That will be Resler Realty, so please give us a call! Located in the heart of downtown Rio Vista on Second Street, this piece of history was built in 1905. After building this home for his wife, Dr. A.J. McKinnon lived and practiced medicine at his home, placing his office sign on the cement wall at the base of the stairs. This home remained in the McKinnon family just shy of 100 years, and Gene and his wife are the third owners of the home, purchasing it in 2004.
Agent - Christopher Roach
PERSONAL: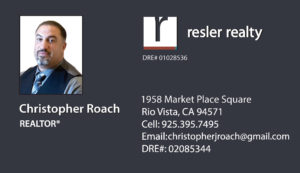 Christopher is an ambitious individual that thrives off customer satisfaction. He believes you have to enjoy what you do in order to be the best at it and having the privilege to interact with multiple people through Real Estate is at the top of his list. Christopher has always been a high energy, good spirited, person who enjoys working with people. He also enjoys working out, golf, playing basketball, and traveling. Marrying his wife in the islands of Hawaii has been his most enjoyable trip thus far. Above all else, he really enjoys spending quality time with his family. One of Christopher and his wife's proudest moments came when their son joined the Marine Corps! PROFFESIONAL: Christopher started off in his early 20's as an electrician. Next he received an opportunity to work for the Department of Defense as a contractor. His first contract took him to Iraq which then led to the opportunity to work on different military bases ranging across 40 states and 15 different countries. The experience was amazing and fully strengthened his attention to detail, problem solving, and leadership skills that he's now applying to Real Estate. After personally finding, investing and managing his own rental properties, Christopher has acquired a wealth of knowledge in almost all aspects of real estate, which makes him that much more of an asset to any client he may have the pleasure of working with.